For over twenty years Quality Truck Repair has been servicing and repairing trucks and trailers. Quality Truck Repair has the capacity to handle all of your truck and trailer fleet maintenance. We have a fully equipped 15,000 square foot facility situated on over 9 acres and conveniently located within minutes to the 401. Our shop has seven service bays and ten truck and trailer technicians as well as welders to service all of our customers specific needs. We have experienced service technicians familiar with all makes and models of trucks and trailers.
At Quality Truck Repair we have over $400,000.00 of in stock inventory parts on site including truck parts, tires, trailer parts, parts for fuel tankers, car carriers and rolling tarp trailers and miscellaneous used truck and trailer parts.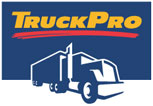 Quality Truck Repair Inc. is a member of the TruckPro Banner Program. TruckPro is the largest network of independent service centers across Ontario, and being a member of the TruckPro banner program ultimately allows us to benefit from numerous competitive advantages. TruckPro allows Quality Truck Repair to be better equipped to compete with truck dealers and independent shops, as well as to significantly improve our business. TruckPro offers a Nation-Wide limited parts and labour warranty program.
For more information, please visit www.truckpro.ca.